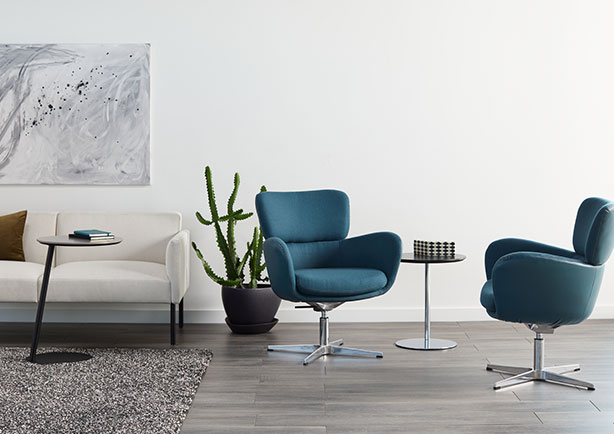 How Architectural Products can enhance your workspace
Architectural products can greatly enhance the functionality and aesthetics of a workplace. These products include everything from division walls, flooring to lighting fixtures and acoustics. The right architectural products can not only improve the look of a workplace but also make it a more comfortable and efficient environment for employees. Let's explore how architectural products can fit into your workplace, inspire employees, and make an impact on overall productivity and well-being.
Space Division and Walls
No matter the size or shape of your office, one of the most important aspects of a workplace is space division. The right walls and partitions can help create separate areas for different functions, capabilities, and departments within an office. Take for instance Beyond moveable walls; a built-in structure that provides flexibility within work areas and can change as your business evolves. Your office no longer needs to be confined to drywall solutions and rigid space planning. Instead, Beyond walls allows you to move beyond and create dynamic spaces that are ready to reconfigure or relocate for whatever change the future brings. Go for an unframed glass wall that provides a more open and collaborative environment. A glass wall in general will bring in more natural light and encourage overall wellness at work. A solid wall may be a good fit for an office that requires a quieter area for employees who need to concentrate.
From privacy tiles or media integration, Beyond has endless opportunities and solutions that create smart spaces to fit the flow of any office.
Flooring, Ceilings, and Acoustics
Flooring and the acoustics of an office as a whole is another important element to consider. Different types of materials or flooring can affect how comfortable and productive a workspace can be. Cut out the noise by adding softer materials or layers into a space creating a seamless integration and flow. Acoustic panels and installations can be added to walls and ceilings to improve sound absorption and create eye-catching, inspiring designs.
As Falkbuilt expresses, "acoustics have always been essential to creating a sound workspace, and yet they're often treated like an after-thought". In our mind, creating sound acoustics that fit a workspace is top of mind. Falkbuilt takes a holistic approach to provide simple solutions that consider not only the functionality but the aesthetic and cost. By using Digital Component Construction, Falkbuilt can combine the best of proven construction methods with next-gen technology to build beautiful, high-performing, and cost-effective environments where people thrive. Ask us about how we can work together to enhance your office with a more sustainable design.  
Lighting fixtures
Lighting is a crucial aspect of any workplace needed for design and functionality. Lighting can positively or negatively affect those within the office and the overall feel of the space. For instance, the proper lighting can help reduce eye strain, improve mood, and enhance productivity. Architectural lighting products offer solutions for meeting rooms, lounge areas, reception, and individual workspaces. Focused lighting is great for specific tasks and teams. Brighter lighting may be needed for larger working spaces while ambient lighting features can create a more comfortable, calming, or inviting feel. Understanding the function of each area in the office, and providing features that are adaptable or custom can make a big difference. Additionally, combining natural lighting with artificial lighting can make for a collaborative and important element in any office area.  
Now that you know a bit more about architectural products, you also know they play a vital role in the workplace. Consider wilsonbauhaus' architectural product service for your next office design project.
We can help guide you in making smart choices and solutions to create a workspace that promotes productivity, comfort, and well-being for everyone.