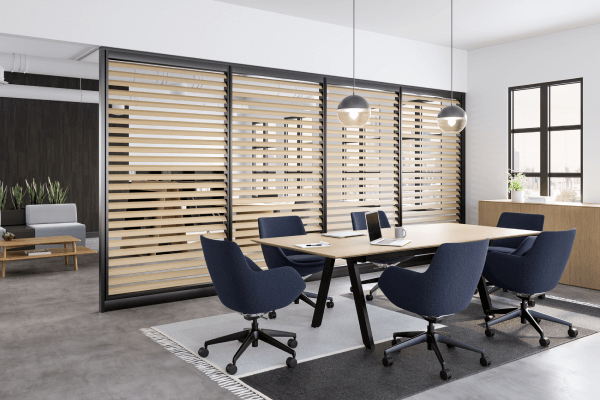 How to select the best workplace design for your office
The office environment can positively or negatively affect the quality of work and overall feel. The layout and organization of your space are not the only things that matter; it boils down to the most significant factors — how the workspaces within the space are designed, and productivity.
Are you in the market for enhancing your office space? Starting with the basics to understand how your office works will help you nail down the best workplace design.
Identify the Problems in Your Workspace
First, identify what is not working in your current office space. Finding the problem areas means creating a solution for a better workspace. It's important to be open and honest about not only what your office has – but what it currently lacks.
From there, look at the spaces and rooms used in and around the office – there may be wasted or unutilized space that can add value to a team. Observe if your employee consists of working individuals, collaborating teams, or both. Are there a lot of phone calls or virtual and in-person meetings? Or does your business require a lot of collaborations and work sessions? These are essential questions that need to be asked to ultimately improve the atmosphere and flow of the office.
There may be disengagement or lack of inspiration among employees – it happens. However, both can be attributed to an unmotivating workspace. Crafting such a space is so much more than hanging inspirational posters on the walls – it's a commitment to bringing out the very best in your employees via a workspace that truly inspires through its design and layout.
Of course, it's important to have a game plan. If an office feels too cluttered in design, employees may also feel that way. Build areas that reflect the ideal outcome — creativity, innovation, collaboration, and expressiveness. Design and layout are directly related to the productivity of a team.
What Does Your Office Team Need?
Think about the employees and the varying teams involved in the company. Modern offices today are equipped with diverse spaces and tools to ensure successful and productive in-office days. We get it — there are numerous office concepts to choose from, and making a selection can be difficult.
Many employees want more than ping-pong tables and free snacks to attract them back into the office – now is the time to get creative.
Making the most of your office space plays into the overall workflow and productivity of your team while maximizing efficiency. And let's be honest: your employees will be grateful and excited to come to work each day knowing they will be working in a great-looking, smartly-designed office with them firmly in mind.
Expand with Design
As far as designs and layouts are concerned, the sky truly is the limit. Whether you want a tight-knit coworking space, an open floor plan, a more traditional cellular-based layout – or a combination of all three, designing the workflow is one of the more exciting and fun parts of the process.
In the modern office, traditional layouts don't necessarily mean "boring." Open floor plans don't necessarily mean "vast and empty." Those days are long gone, replaced with forward-thinking concepts that push the boundaries of design. From activity-based and mobile to ergonomic and enclosed glass doors and wall spaces, there really is something for every unique office need. You'll be blown away by the options available to you and your employees. In 2023, form meets function in a manner that is wonderful to look at – and work in. 
Your office design should reflect your company's image while encouraging collaboration in a manner that sets employees up for future success, all while maintaining high morale. If that sounds like a daunting task to pull off, it is – but don't worry, we're here to help.
We understand that each office and every team is different, facing its own unique set of challenges. That's where we fit in.
By understanding the objectives and goals of your office, we can help craft an innovative workspace that will boost morale, inspire, and make your workflow more efficient. Reach out to us – our team of experts are ready and willing to take your office to the next level.