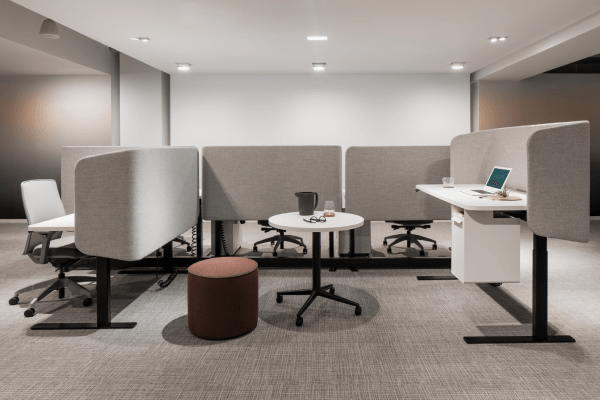 Office industry trend predictions in 2023
Trends come and go over the years. The corporate office industry is no stranger to the evolving fads and demands of those occupying the workplace. In recent years, office spaces have taken on a whole new meaning. Hybrid and remote working opportunities seem to be sticking around, and priorities have shifted for those working full-time. Employees are wanting more flexibility, open and more collaborative spaces, and an environment that can feel more comfortable – a home away from home. Employers are listening. 
It is safe to say that businesses are taking a deeper look into how to provide a more relaxed, less rigid, and accepting environment for their employees. The office furniture market is forecast to reach $84.4 billion, globally, by the end of 2023. Global Newswire shared that by 2027, interior design is expected to become a $255 billion industry, globally. How does office furniture make a difference? While it may not be the first thing you think of, office furniture and the way it's used plays a big role on how it impacts the way people work and feel.
We'll be focusing on the most popular trends that are expected to be on the frontlines of the office furniture and design industry in 2023.
Sustainability
The word "sustainability" seems to be showing up more and more, and for good reason. In the corporate world, it holds multiple meanings from environmental elements to more worker-friendly components. For instance, businesses are providing more energy-efficient lighting, cooling and heating systems, and cleaner water. They are also doing away with plastic and paper goods and stocking up on reusable glassware and utensils for employees to use. Refurbished and recyclable furniture is becoming a popular design choice with employers as well.
These elements can all provide immediate impact on the quality of space, therefore positively benefiting those inhabiting it. Creating a more sustainable work environment on all levels from the building itself to the systems within will become more standard in the years to come.
Mobile and Modern Design
In the past, static cubicles were the norm in offices. These days, employees are wanting open-space concepts that are mobile and flexible. 
Pieces like the Allsteel Altitude A8 Benching provide an agile workstation with the option and mobility to adapt as needed without losing privacy. Creating workspaces with clean, sleek, and minimal furniture designs like sectionals, adjustable tables, and benches gives the option to move about and still maintain professionalism and functionality.
Variety of Spaces
With mobile and functional furniture pieces come the option for creating a variety of workspaces for employees. Offices are becoming more thoughtful to the needs of different departments and individuals and how they work.
Having options of work areas, from collaborative to private to comfort – similar to what people have at home, is a balance office will continue shifting towards.   
Hiring Design Experts
Creating an ideal work environment does not stop at office furniture. The strategy behind an office layout, a team's workflow, coloring, and styling is something design experts can bring to the table. By listening to the needs of your company, a designer can help you find what will work best for your team on a daily and long-term basis. They can help you save money and provide cost-saving solutions too.
Knowing where to source office furniture pieces and quality material is part of our job! Let the wilsonbauhaus team of experts plan and design your office space in 2023. Leave it to us so that you can do what you do best.
Overall Well-Being
One of our favorite trends is the mindfulness approach businesses are taking for their team.
Modern amenities such as daycare options, relaxation pods, outdoor areas, on-site cafes or yoga or meditation programs are enticing to those returning to the office. Some of these mindful updates don't have to be complete renovations either. Upgrading the lighting or wall colors to a brighter, more lively option can help boost employee mood and morale. 
These resources can give relief to stresses of the day-to-day so that everyone can be at their best. Whatever fits your budget, changes of any size can make all the difference.
All in all, choose what works best for you, your team, and your space. Reimagine your workspace and let us help improve your office design and space planning for 2023.