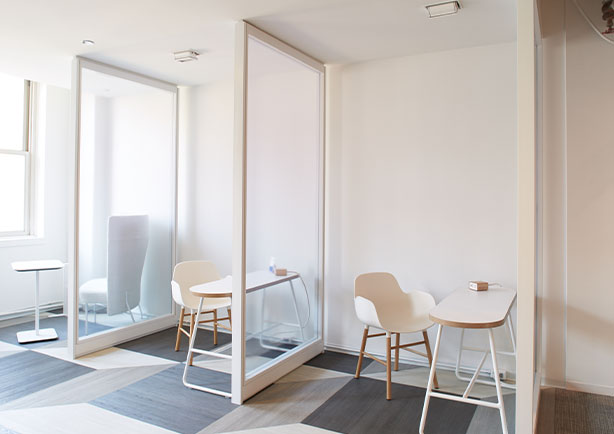 The Modern Office
Have you ever walked into an office and immediately resonated with the company's brand just by being immersed in their office space? This is the power of intentional design.
There used to be a time when office spaces didn't matter so much. As long as it was neat, and had a few manageable pieces of furniture that could get the work done. Fortunately, those days are a thing of the past.
Today, employees are more aware of their mental health and it has become a top priority for most. A study showed about 84% of respondents reported at least one factor in their workplace that affected their mental health. Another report has confirmed that the office and work environment can affect the general well-being and productivity of the employees.
The whole essence of the modern office can be summed up as;
An aesthetically pleasing workspace that encourages productivity
The use of natural elements, thought-spurring decor, and quality furniture, influence both the physical and mental conditioning of the employee
What is the modern office?
The modern office is a workspace that is designed to suit the evolving needs of the present-day workforce. It is geared towards encouraging the happiness and the overall productivity of the employee. Research done by the Bureau of Labor Statistics shows that the average individual will spend about one-third of their life at work. Nobody wants to spend that much time in an unconducive environment.
To meet up with this evolution, employers are more intentional about incorporating new and effective modern office design trends. Some of the elements that are added to office spaces to make them modern include:
Natural lighting
Collaborative furniture
Natural artifacts and horticulture
Enhanced technological devices
The use of the right colors and paints
A flexible and spacious design
Benefits of Having a Modern Office
The COVID-19 pandemic buttressed the point that spending a lot of hours at work does not necessarily equate to productivity. During the pandemic, employees had the opportunity to work from home, and design their own workspaces, and this changed the entire narrative for employees worldwide. With this new narrative, employees have been able to demand better spaces from their employees as they understand that the workspace can increase productivity. 
The general well-being of employees can be enhanced with the right office space. The right lighting and colors can prevent eye strains, and comfortable sets of furniture can enhance posture and prevent backaches.
An excellent benefit of modern office design is that it attracts and retains top talents. Top talents know the kind of environment they need to work in, and are less likely to settle for anything less.
Do you need an inspiring office space created? Wilsonbauhaus is a great partner to help you transform your space, no matter which industry you are in. With over 100 years of industry experience, we are trained to offer personalized solutions to new and existing customers.
Our furniture is made of the best quality to enhance productivity in any workspace.
Look no further than us for the perfect office design. Let us create solutions that meet and exceed your expectations. Contact us now to schedule a consultation—we can't wait to meet you.